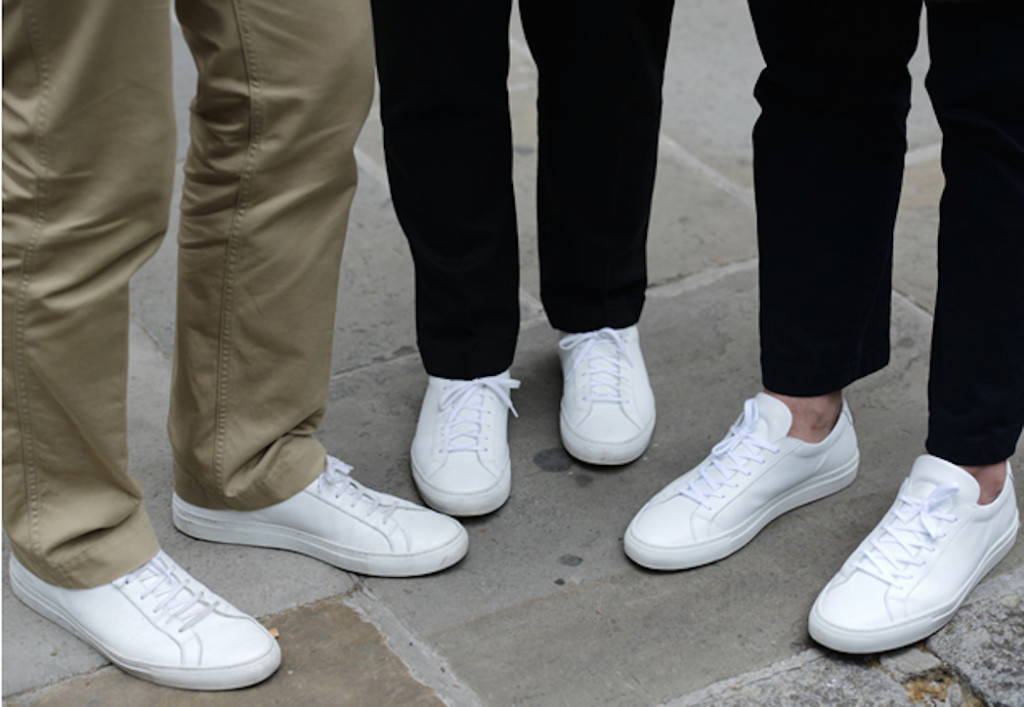 Apparently the new fashion trends make white tennis shoes one of those items that cannot be missing in anyone's closet, since we are talking about tennis shoes that can be combined with "almost everything" and will help you wear a perfect outfit for every occasion....... by the way, don't worry about these going out of style, the use of white sneakers is timeless.
Here we will give you a series of ideas on how you can combine your white sneakers.
1 . Combine White Low Top Sneakers With Chinos or "khaki"
One of the ways in which you can combine your white tennis shoes , without a doubt, is with chino pants or "khaki"
You can use this successful combination for a slightly more formal look, using t-shirts and/or sweaters, or you can choose a more relaxed outfit using basic t-shirts; without a doubt, a white t-shirt will look excellent on you.
2. Combine White Low Top Sneakers With A Relaxed Suit
Another excellent way to combine our white tennis shoes, although a bit daring since not everyone can look good is to combine them with a suit , of course we are not talking about any suit, but those that are more casual, with a sport coat, preferably in neutral colors such as gray or beige, wearing relaxed shirts or t-shirts on top.
3. Combine whites and shorts
You could not miss the combination of white tennis shoes with shorts, a relaxed outfit but without losing style, you can do this combination using almost any type of short, although of course... we have to take into account that it has a good fit.
These can be khaki, gray and even denim shorts; At the top you can wear anything from a basic t-shirt, a polo shirt and even a short-sleeved button-down shirt. Do not hesitate to use accessories such as a watch or bracelet with this outfit, we are sure it will fit you perfectly.
This combination is perfect for the summer season or hot days, do not hesitate to experiment with the combinations with your sneakers using your creativity.
4. Combine White Low Top Sneakers With Dark Denim Pants
We all know that denim is a basic that can be combined with almost anything... and white sneakers are no exception. In fact, dark denim pants with white tennis shoes look perfect, since the darkness of the pants contrasts with the lightness of the tennis shoes. Do not hesitate to use glasses and some accessories to complete this look.
5. Combine White Sneakers and Athleisure
Lately it has become more and more fashionable to mix a sporty or semi-sporty outfit for daily use, a style called "athleisure" which comes from the combination of words athletic and leisure. To use this combination, you will generally prefer to wear a slightly baggy shirt and some tighter pants, this can be as slim-fit cut without problems.
RECOMMENDATIONS FOR WHITE SNEAKERS FOR MEN 2022:
1. Combine White Low Top Sneakers With Faux Leather Leggings:
White tennis shoes are the perfect combination for the use of synthetic leather leggings with a relaxed touch, remember that the new trends are more inclined to brown tones, therefore, do not hesitate to change your traditional black leggings for brown ones.
2 . Combine White Low Top Sneakers with Wide Leg Jeans
One of the trends of this season without a doubt are the wide jeans, which makes a perfect match to wear them with white sneakers... for this combination you can play with the colors of the jeans, from light to dark, it always looks good.
Remember that this outfit, apart from making you look amazing with the new trends, is also very comfortable.
3. Combine White Low Top Sneakers With White Top
As we know, white tops are the kings of casual clothing, so they cannot be missing from your closet since you can wear them with jeans, shorts and even with a skirt... and of course, using your favorite white tennis shoes for a radiant look.
4. Combine White Low Top Sneakers With Jeans and Blouse
This look, despite being quite common, we should never lose creativity, since there may be different combinations that will make you be at the top of fashion, even with just a white blouse, remember, sometimes less is more.

5. Combine White Low Top Sneakers With Athleisure Style
Finally, you could not miss the altheisure style to wear those white tennis shoes that you like so much and this trend is incredible since it had never been possible to wear gym clothes or yoga at work and be totally fashionable, even up to in the club on the weekend.